At Parkdean Holidays we have worked hard to produce a site with simple and intuitive navigation which we believe will enable you to find the information you are looking for with ease.
To search through general topics on the site or to see an overview of all the areas we recommend browsing our simple site map. A link to the is found in footer at the bottom of each page.
Viewing our site
For the best possible viewing of our site we recommend the following resolutions and browser settings.

Screen Resolution
Your screen resolution determines the number of pixels that are viewable on your computer screen and determines in some instances the amount of content displayed.

For best viewing we recommend a screen resolution of 1024 x 768 pixels or larger which will allow you to view the full range of content we provide on each page, but the site can also be viewed at 800 x 600.

To check your screen resolution in Microsoft Windows, move to a blank area of your desktop's background and right click your mouse. Select "Properties" and then the "Settings" tab.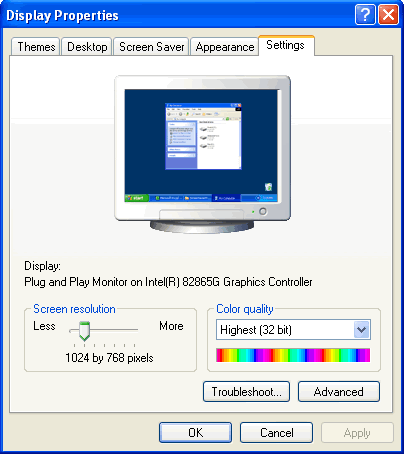 Recommended Browser
The site has been built and tested in today's leading browsers but we recommend you use the latest version of Microsoft Internet Explorer (currently 8) to utilise all functions of www.surfparadise.co.uk. The latest versions of Explorer can be found at www.microsoft.com.

360 Virtual Tours
From time to time we include 360 Virtual Tours on our site to give you the best possible feel for the quality of our holiday home accommodation. To view these files you must install a high-quality media player such as QuickTime and you will also need to have Java installed and enabled on your machine. To download Java and get instructions on set up go to www.java.com.

PDF documents
To view PDF files that we use on our website you will have to download Adobe's Acrobat Reader, a free plug-in that allows you to view PDF files. This free programme can be downloaded at: www.adobe.com/products/acrobat. Please refer to the instructions on Adobe's website for more information about the program.

Javascript
To use our website you must have a javascript compatible web browser and have javascript enabled.
If you have intentionally disabled javascript on your browser
Unfortunately you will be unable to access certain content such as online booking.

If you have not intentionally disabled javascript on your browser
and wish to enable it, follow instructions below to turn it on.

IE 6, 7 & 8

PC Settings
1. Select the "Internet Options" option from the "Tools" menu at the top of your browser.
2. Click on the "Security" tab on the "Internet Options" box.
3. Select the "Internet" zone from the list of zones displayed.
4. Click on the "Custom Level..." button beneath the zones.
5. In the new window which will appear, find the item which reads "Active Scripting" and select the "Enable" checkbox.
6. Click the "OK" button at the bottom of the "Internet Options" box.

Mac Settings
1. Select the "Preferences" option from the "Explorer" menu.
2. Click on the "Web Content" label on the left hand side of the "Preferences" box.
3. Select the "Enable Scripting" checkbox in the "Active Content" area.
4. Click the "OK" button at the bottom of the "Preferences" box.

Netscape 6

PC Settings
1. Select the "Preferences" option from the "Edit" menu.
2. Click on the "Advanced" label on the left hand side of the "Preferences" box.
3. Select the checkbox marked "Enable JavaScript for Navigator".
4. Click the "OK" button at the bottom of the "Preferences" box.

Mac Settings
1. Select the "Preferences" option from the "Edit" menu.
2. Click on the "Advanced" label on the left hand side of the "Preferences" box.
3. Select the checkbox marked "Enable JavaScript for Navigator".
4. Click the "OK" button at the bottom of the "Preferences" box.

If you are browsing with a device other than a computer
such as PDA, mobile phone or Web-on-TV system - then unfortunately your device may not have javascript functionality. Please check with any supplied documentation you may have.